The Vivacious Thespian of Burlesque
She was an actress having studying for a BFA Theatre in undergrad at Radford University and Webber Douglas Academy of Dramatics Arts in London, UK, until tragedy struck. She had a heart attack caused by a cold virus that attacked her heart. 12 years later she had a heart transplant and two weeks before that, she had a stroke. She couldn't walk. She couldn't speak. Oneyear after my heart transplant she got throat cancer caused by the fact she was on immune suppressant drugs. That was 6 years ago. Now she can walk and dance! She can speak, sort of. That's why she'd turn her attention to Burlesque because it's Expression Without Words. About 3 years ago she took lessons at the Boom Boom Basics Burlesque & Performing Arts Studio in Richmond under the tutelage of Deanna Danger and she have never looked back. She can give a sense of empowerment to people with disabilities i.e. stroke, cancer, heart transplant and heart attack patients. She's a survivor not a victim.

THE BARD & THE
BEAUTIFUL BY TWISTED KNICKERS BURLESQUE AT YELLOW SIGN THEATRE

NEWS OCTOBER 9, 2016 AMANDA N. GUNTHER
'With The Scottish Tragedy inspiring a great many hauntings in the month of October, it was no wonder that Caza Blanca focused her routine seen in the first act of the evening's show around Macbeth's three witches. Double, double, toil and trouble— Blanca had the audience's blood a-bubble as she worked her way through her boiling hot routine. Layered in three dresses and masks— one for each witch with each one possessing a different flavor of sexy trouble— Blanca blew the minds of the audience with her wild and rhythmic movements. The crowning glory of this soothsaying scene was her tri-faced mask featured now the number's end; a stylish and simply seductive element that capped off the routine to perfection. There was even a giant cauldron with special lighting effects to authenticate the experience.' Amanda N. Gunther | Theatre
eBloom
Caza Blanca double double toils and troubles!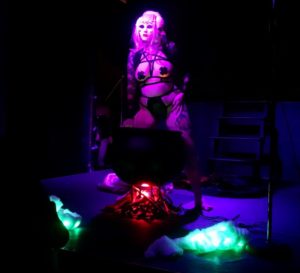 RES-ERECTION: TWISTED KNICKERS DOES EASTER BURLESQUE
NEWS APRIL 18, 2017 AMANDA N. GUNTHER
'And in their third year— they rose again! Twisted Knickers Burlesque came back to town in time for some Easter Services this past holiday weekend. This marks their third annual Easter-themed burlesque show: Res-Erection. Returning to Church & Company just off the Avenue in Hampden, troupe producer Tapitha Kix and the girls of the Easter show had services hopping all the way down the bunny trail!' '...Caza Blanca was next to the stage, performing to "Missionary Man" because isn't it said that God's best work is accomplished in missionary? (Or should that be by missionary?) Also cloaked up, much like a cloistered Monk, Caza Blanca hit the stage with fiery intention, revealing her sassy red ensemble, demon wings, and overall spirited nature with this routine. Unafraid to strut about setting the audience on fire with her saucy moves and her surprise blood-inclusion toward the end of her routine, Caza Blanca even flashed some super scintillating demon-faced pasties to complete her performance with a glittering bang.' Amander N. Gunther/ TheatreBloom